DISCOVER THE DOMA DIFFERENCE!
Move freely and feel amazing. We proudly provide a more approachable yoga experience, focusing on creating balance through strength and flexibility. You'll love our heated yoga and pilates classes that are bound to give you a joyous workout, every single time.
GET READY TO FEEL AMAZING
JOIN US NOW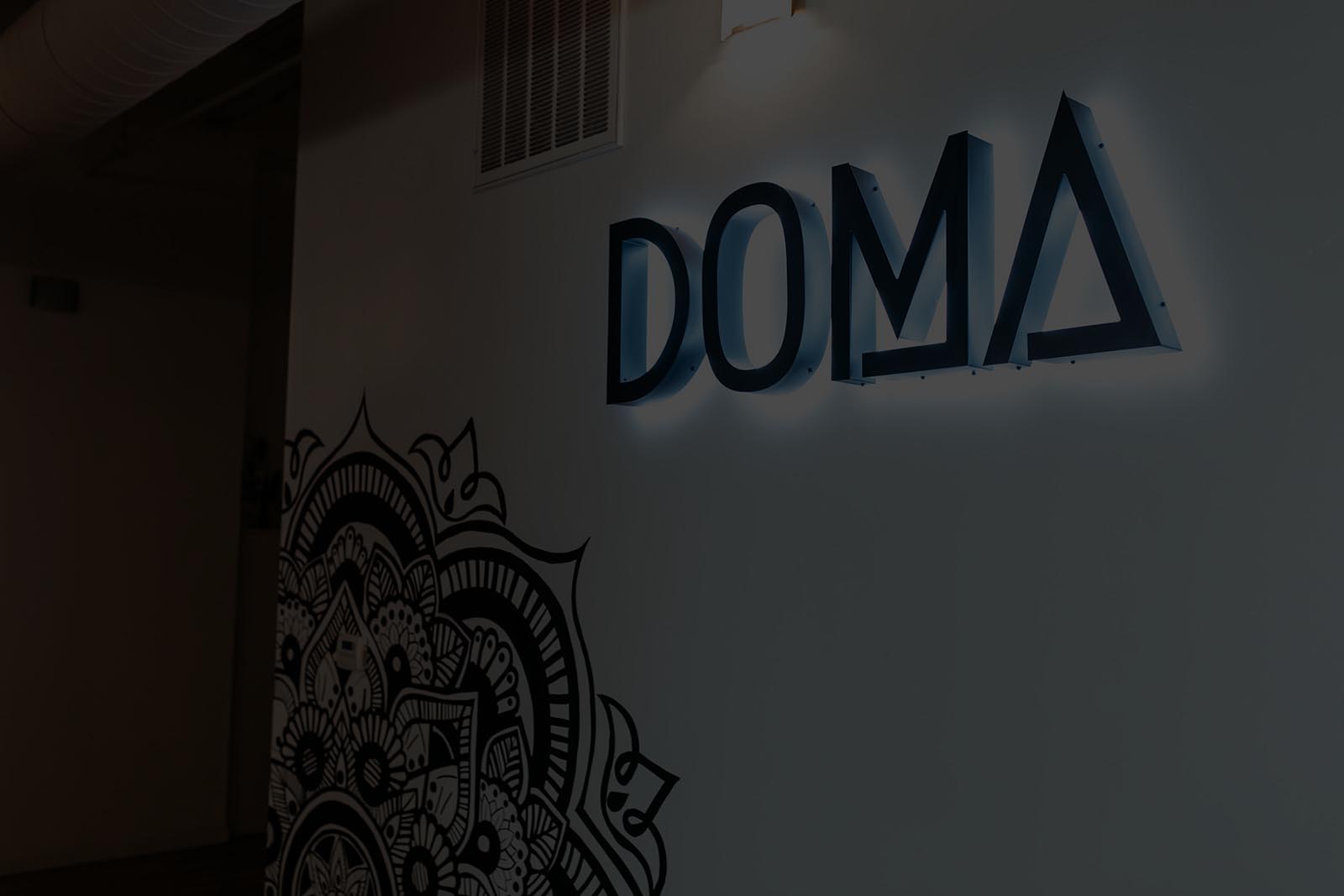 UNLIMITED CLASSES: 30 DAYS FOR ONLY $29!
Come as often as you want and discover what difference 30 days can bring to your body. Our special intro offer allows you to experience our heated yoga, pilates, and yoga strength classes without any obligations. Save over 60% on your first month, risk free!
BOOK YOUR INTRO DAY
BOOK YOUR FIRST CLASS
FIND A CLASS THAT FITS YOUR STYLE
From our traditional yoga vinyasa to our fast-paced, calorie-burning hot pilates, you are bound to find a class that fits your style and schedule. All classes are geared towards beginners but also allow seasoned practitioners to go into more advanced postures, offering a challenging experience for everyone.
Do extraordinary things with your body in a safe training room that is heated and humidified for your protection. The hard work in class produces results in our everyday lives. Feel better, move better, live better.
THE RIGHT DEAL FOR YOU
A fitness-focused New Year's resolution that's worth making. Start 2019 off with forming new, healthy habits that will help you achieve your goals and ambitions. To help you push in the right direction, we are now offering reduced prices for our memberships! For all pricing options, please visit our pricing page.
Unlimited Month
$149
Don't like to get tied down by a contract? No worries, this monthly option still gives you all the same benefits as a regular membership, with unlimited classes. No notice is necessary.
New Member Intro
$29
Start your practice off with a whole month of unlimited yoga and pilates for an introductory price! Try it now risk free, and discover how much you can achieve in a single month.
New Year's Membership Special
Take advantage of the best deal in town! Come as often as you would like, and experience the transformation of your body. Save $10 per month on our regular rate with a one year commitment.
Bring your mat, a towel, a water bottle, and a smile! We will take care of the rest!
We also have mats and towels for rent, and water for sale.
We hope to welcome you soon at DOMA Studio!
TAKING A CLASS?
HERE'S HOW TO PREPARE!
New students, please arrive 10-15 minutes early for a quick introduction & registration

 

Doors are locked when class starts, please be on time
Bring a bottle of water, yoga mat and large towel (also available for rent/purchase at the studio)
Wear light workout clothing, you will be doing a lot of sweating
Hydration is very important, so drink plenty of water during the day
Avoid eating at least

 

1 hour before class
Practice stillness in between postures
Come to class with clean feet and body, no perfume please
Follow the teacher's instructions and move with group energy
Please leave your shoes in the cabinets
Cellphones on silent or airplane mode during class time
Respect everyone's practice, avoid leaving during class
WHAT DO OTHERS SAY ABOUT US?
Katie is amazing and every time i leave i feel great about going and excited for the next class already.

Christopher Long


12/18/2018

Great instructor, clean studio, challenging classes!

Sarah Pollo


12/12/2018

Beautiful, modern studio! Lovely vibe. Perfect temperature.??❤️

Janelle Ranee Atwell


11/12/2018

Love this studio, teachers are very friendly and love their schedule.

Mary Grace Hill


10/31/2018

The teachers are Amazing...Great work out, very nice studio clean and friendly.

Lillian Cecini


10/31/2018

I tried Doma Studio today for the first time today and it's my new favorite yoga spot in Sac. Cutest ambiance and great Pilates. I'll be back!

Megan Simmering


10/02/2018

I highly recommend Doma! It is the cutest studio, it feels like home every time I walk in. Kata's Yoga Strength class is my favorite! She gets me working the parts of my body I always forget about in workouts, and she makes it so fun! I always leave feeling amazing. Brian is the best too!

Tyguenne Bleu Solomon


9/30/2018

Great workout and beautiful space!!

Jenna Fortuna


9/23/2018

Doma studio's ambiance is blissful. Every time I walk in, I'm greeted with a friendly smile and welcomed. They have a variety of classes offered to make sure to hit all my workout, both mind and body, wants and needs. No matter how I enter the class, I leave feeling refreshed knowing I can take on what ever may come my way. All the teachers are well trained, keep you engaged all of class and the most amazing thing is at the end, the teacher comes around with an aromatherapy, delicious smelling, chilled towel.

Ashley Marie


9/19/2018

They are so nice and professional. Honestly can say that it is the best yoga studio in the city. ?

Yigit Pala


9/19/2018

Amazing yoga studio!! Would recommand it to everyone who loves yoga.

Ivo Kelava


9/15/2018

I have attended several classes so far and I loved all of them. The instructor/owner is very knowledgeable and can easily articulate the movements. Great classes for the advanced or beginner. The decor is simple and urban which I love. Lots of parking nearby.

D'Lee Daleo


8/17/2018